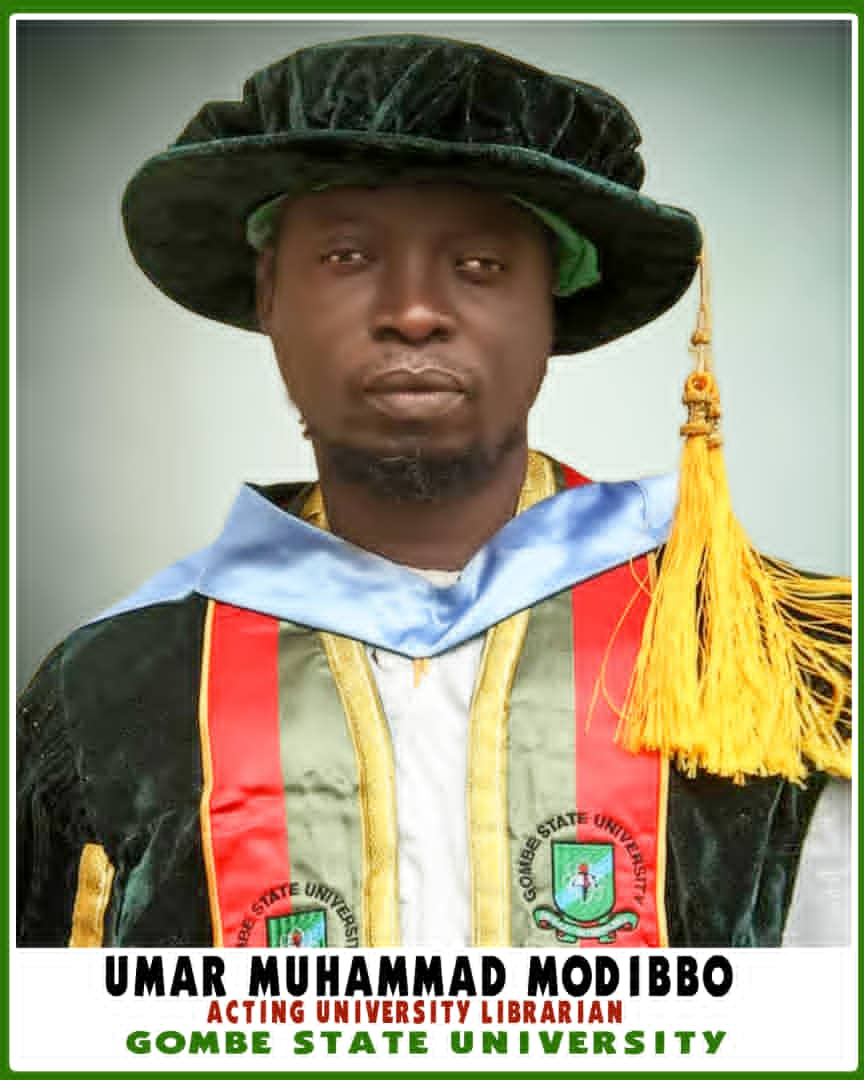 About the University Librarian
The University Librarian (Ag.), Umar Muhammad Modibbo was born in Ajiya ward, near Correctional Service Yard/ Centre, Gombe town, popularly known as Prison Yard. He attended Karangada Primary School, Gombe in 1986; Gandu Junior Secondary School and Government Science Secondary School Gombe in 1989 and 1992, respectively. He obtained his Nigeria Certificate in Education (NCE) from the Federal College of Education, Kano (FCE) in 1995. Modibbo graduated from Bayero University, Kano with a bachelor's degree in Library Science in 2005, as well as master's degree in library science (MLS) in 2014. He is currently undergoing his PhD at Nnamdi Azikiwe University, Awka, Anambra State. He began his career as a class teacher at the Gombe High School from 1996 – 2000. Between the year 2000 and 2002; he worked with Dukku Local Government Council. His career as a librarian started at the Gombe State Library Board where he served from 2002 to 2008. In September 2008, Modibbo was employed as an Assistant Librarian (Graduate Librarian) in Gombe State University where he rose to the rank of University Librarian (Ag) in July 2020. His academic works have been published in sixteen (16) local and International journals and book chapters. Modibbo in 2018 authored a book titled "Information sharing for healthcare service delivery". His major areas of interest include among others: Electronic Information Resources (EIRs), Information Management, Cloud library resources and services. Modibbo is widely traveled and is happily married with children.
GOMBE STATE UNIVERSITY LIBRARY
It is my great pleasure to welcome you to Gombe State University Library. The Library is committed to support the overall vision, mission, and program of the Gombe State University. Our commitment is demonstrated via the production and maintenance of library services geared towards retrieval, acquisition, preservation and dissemination of information in its various forms. The Library's services and collections are entirely dedicated to support the GSU community of faculty, researchers, students, and staff. It also provides the opportunity for external researchers and postgraduates to request the use of its extensive catalog of books and journals. We provide excellent internet connectivity and efficient online access to our rich e-resources and digital content. Our well-trained staff members are pleased to offer their expertise in answering your inquiries about any library-related issues. We look forward to serving you and welcome your comments and suggestions.
About The Gombe State University Library
The Gombe State University Main Library is located in the Main Campus, Tudun Wada Gombe, it is a Two-storey building with offices, departments, sections, units etc. These houses the various administrative, technical and other staff, as well as resources repositories and others The GSU library also has departmental and faculty satellite libraries in almost every department and faculty of the University. These are also generally set up in such a way as to reflect the needs of the specific departmental staff and students, based on the fields of study found there. The Library has a total holding of over 52,000 volumes of books and 12,000 periodical titles, together with a very good collection of online and offline Journals. The University library has always been at the center of research and scholarship playing a major role in acquiring, processing and lending library materials and responding to patrons inquires. Rapid progress has been made not only in updating the collection, but also in automating the resources and services of the Library system. With a staff strength of 32 professionals and para-professionals, 4 Senior and 22 junior non-professional staff in the entire university library system, the library management is striving to upgrade the IT skills of the staff to enable them cope with challenges of the information age.
Our Mission
The mission of GSU libraries is to support the current and anticipated teaching, learning, research and community service activities of the University through provision of all relevant information resources, facilities, services and personnel.
Our Goal
The goals of the Gombe State University Library Complex are: • To select, acquire and maintain library resources in all formats for supporting teaching, learning, research and Community service of the University. • To assist library users to identify, locate, retrieve and access needed information and also instruct them on how to use them best for better utilization. • To provide appropriate infrastructure and technologies for operational efficiency and effectiveness. • To attract, develop and retain qualified personnel for effective and efficient information service delivery and systems management. • To participate actively in teaching, learning, research and dissemination of information. • To create, develop, acquire and maintain e-resources and related databases to boost the holdings of library resources and enhance library services.
SATELLITE LIBRARIES
There are other branches of the University Library on and off the campus, and these can be used by all members of the University, subject to the regulations of each Library. They include the following:- i. Postgraduate School Library ii. Medical College Library iii. Clinical Library iv. Faculty of Arts & Social Sciences Library v. Faculty of Education Library vi. Faculty of Pharmaceutical Sciences Library vii. Faculty of Law Library The other libraries are departmental collections of varying size and importance, manned in the majority of cases by non-professional staff. Most of them hold multiple copies of basic texts recommended for student reading – laboratory manuals, basic reference materials, essays and dissertations accepted as part-fulfilment of their first degrees, Masters theses, certificates and diplomas and specially prepared course handouts for students' reading. Permission to borrow any of the materials housed there depends on the policy of the individual Faculty/Departmental libraries.
ARRANGEMENT OF THE MAIN LIBRARY
GROUND FLOOR
Circulation Desk, Catalogue Cabinet, Automation Room, OPAC, E-Resources Unit, serials unit, Audio visual unit, Bindery unit, the processing Room and General offices.
FIRST FLOOR
Has the University Librarian, the Deputy Librarian's offices and the Library Conference Room. It also has the Circulation books reading rooms for the Arts and Social Sciences and a reading room for the Sciences.
SECOND FLOOR
It has the Reserve Unit, Reference Unit, Africana/Government publications unit and the Arabic collections units. Materials from the Special Collections can be consulted on application at the Control Desk of the Reference Unit.
ACCESS TO THE MAIN LIBRARY
The Main Library seats 1,804 readers. The library is open to all members of the University Community as well as Alumni of the University. As is traditional among university libraries, postgraduates and academics from other universities are allowed reference-only access to the library's collection, and members of the public may apply for access to use the Library for reference if their research requires access to materials held there. Students and academics from other libraries and institutions must submit a request to access prior to using the facilities in the library. The library is unique in keeping a large proportion of its books on open access and in allowing some categories of reader to borrow from its collection.
LIBRARY REGISTRATION
All readers must fill-in registration forms, before borrowing from the Library. This is the only formality for members of the University, i.e. staff and students and for Persons who wish to make regular use of the Library and who are not eligible under the clause above, must make personal application to the University Librarian for permission. Demands on Library facilities from within the University make it increasingly necessary to grant this only in exceptional cases. The claims of scholarship and research will be given first consideration. Every registered reader is issued with Reader's Tickets, which s/he is required to bring along whenever s/he wanted to borrow from the Library. Readers' tickets are not transferable and they must be presented, on demand, to any member of the Library staff. Staff and students are entitled to the following number of tickets: a) Staff: 4 Tickets. b) Students: 3 Tickets.. HOW DO I REGISTER? You need the following: • Identification Card or Letter of Admission OR School Fees Receipt. • One colored passport photograph.
REFERENCE SERVICES
Readers are free to consult the Reference Librarian on any problem they may encounter in their use of the reference collection in particular and the entire Library collection in general. Reference enquiries such as how to locate a material, and where to find a piece of information and other research questions are welcome at all times. Readers wanting to obtain some documents not in the Library should apply to the Reference Librarian.
RESERVATIONS
Books in constant demand by readers, especially heavily used textbooks, are removed from the open shelves and placed in a controlled access collection in the Reserve Book Room of the main Library. Academic staff must send in advance to the Library, copies of all reading lists for students, and particularly titles of works, which are specially recommended for the attention of classes. This enables the Library to obtain those materials, which are not already in stock. The course and the desired duration of reservation must be indicated, so that reserved books may not be kept indefinitely out of circulation to other Library users. An indication of the number of students requiring the books helps in determining the number of extra copies to be provided. Students themselves are welcome to recommend books to be put on reserve. Finally, it is important that teaching staff confer periodically with the Circulation Librarian about this service.
LOANS
The normal loan period is 3 weeks for students and 6 weeks for the staff. Teaching and research staff and research students with special reasons for doing so may request longer periods but all books must be returned before the end of the academic year in which they are borrowed.
A loan may be renewed on application for one further period as long as no one else wants it. After that, it must be returned
Failure to return on demand an overdue book will result in suspension of borrowing privileges.
Fines at the rate of twenty naira for students and fifty naira for staff must be paid for each day a book is overdue. Books lost or damaged should be reported immediately and paid for at the estimated cost of replacement. Cases of stealing, mutilation or defacing of materials are regarded as serious offences and the offenders are dealt with very severely. The University Librarian reserves the right to suspend or withdraw all Library privileges from persons who contravene these regulations, and to report such cases to the appropriate University authorities for further disciplinary action.
ELECTRONIC RESOURCES
The Library subscribes to a host of electronic resources/databases and provides facilities to access them. The Library's internet service is superb with over 200 computers connected to the library's server manned by the Systems Administrator. Some of the e-journals and books are EBSCOHOST, AGORA, DOAJ, AJOL, HINARI, LEXIS NEXIS, HEIN ONLINE, MEDLINE COMPLETE and Nigerian Virtual Library to mention just a few. Internet search is free for all staff, students and community users. Access to library resources outside of the library, is provided through the use of passwords. The ICT department also monitors and enforces access to authorized sites using proxy servers.
BOOKS AND PERIODICALS ARRANGEMENT
Books and Periodicals (with the exception of certain special collections) are arranged by subject according to The Library of Congress Classification Scheme. The main classes of these schemes are outlined below.
SYNOPSIS OF LIBRARY OF CONGRESS
A - General Works, Polygraphs
B-B - Philosophy, Psychology
BL-BX - Religion
C - Auxiliary Sciences of History
D - History: General and Old World
E-F - History: North and South America
G - Geography, Anthropology, Folklore, Manners And Customs , Recreation
H - Social Science
J - Political Science
K - Law
L - Education
M - Music, Books on Music
N - Fine Arts P Philosophy and Literature
Q - Science
R - Medicine
S - Agriculture
T - Technology
U - Military Science
V - Naval Science
Z - Bibliography, Library Science
RULES AND REGULATIONS
Membership of the Library is opened to all members of the University Community.
Orderly conduct should be observed in and around the Library Premises.
Briefcases, umbrellas and other baggage should be left at the Library entrance and such items are left behind at owner's risk.
Absolute silence should be maintained within the Library. The Library should not be used for tutorials.
Use of GSM cell phone is not allowed in the Library likewise charging of the set. Failure to observe this will lead to the confiscation of the set.
Taking foods, drinks and smoking inside the Library is strictly prohibited.
No littering of the Library with waste materials.
Conversations, meetings and any other behavior likely to disturb or inconvenience other readers must be avoided in the reading areas.
All users on leaving the Library must allow Library staff to check all materials in their possession.
Any students that mark, deface damage, tear off pages or mutilate Library books will pay for such books. The amount involved will be two times the unit cost of each book.
Allegedly lost books will be paid for twice the unit cost.
A book in great demand will be recalled from a reader. Failure to return the recalled book will attract a penalty of fine.
No writing or sleeping on the reading tables is permitted.
No reservation of seat for whatever reason any seat so reserved with books and other documents will be cleared by the library staff on duty. Any loss of item arising from this will be borne by the user.
No fighting in the Library. Fighting in the Library will lead to suspension from the use of the Library.
All books consulted in the Library should be left on the reading tables and not returned to the shelves by readers.
Anybody found guilty of converting library documents/books to his/her personal property shall be punished severely by the University Authority.
Walking into the Library wearing high heel shoes is not allowed because it disturbs.
The Library management shall as it deems appropriate introduce other rules and regulations for the efficiency of the Library.
OPENING HOURS
The Library will be opened for use as follows: a. During Session. Mondays – Fridays 8:00am – 10:00pm. Saturdays & Sundays 9:00am – 9:00pm. b. During Vacation. Mondays – Fridays 9:00am – 6:00pm. Saturdays & Sundays Closed. c. Public Holidays Closed.